Last weekend I attended a Dine in the Wild event by Dig & Serve (a local farm-to-table catering service) hosted at KitFox which is an overnight venue located 20 minutes outside of Santa Fe and offers luxury desert glamping in New Mexico. Going into this event, I thought it was just going to be an interesting place to stay with food provided, what it actually was, was an entire culinary experience with a wellness retreat like atmosphere. If you're already needing a break from the hustle and bustle of post pandemic life and desire some remote desert solitude to reground, but with the comforts of a memory foam mattress and a plethora of wholesome food being served directly to your tent doorstep, this may be just the experience you're seeking.
The Food
The Dine in the Wild event revolves around food so there are numerous opportunities to eat, starting with the hors d'oeuvres which are served shortly after arrival (and delivered directly to your tent doorstep if you don't want to hang around the kitchen area) and ending with a large breakfast the following morning. Everything served at this event is either organic, farmed or sourced locally which makes it some of the highest quality food you could possibly consume. Food is something I place a high value in, especially when attending a retreat so I wanted to make sure to mention how wholesome and delicious it was. Below is what I was served at the Dine in the Wild event in March.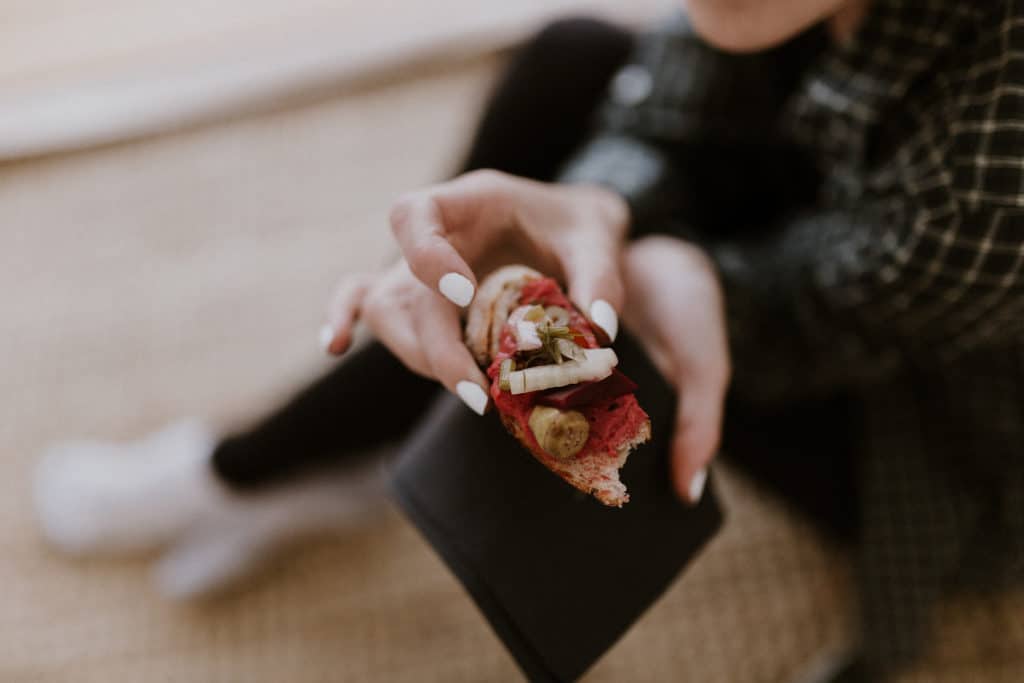 Snacks
The first snack that was served was watermelon seasoned with fresh basil strips and Maldon sea salt. The next item was red beet hummus on a toasted baguette and a house made pickle, followed by seared ahi tuna on an english cucumber with pickled ginger. Lastly, we were served sparkling water infused with herbal bitters from Dram Apothecary and garnished with a viola flower.
Dinner
We started with a locally farmed snow and snap pea salad with yuzu cashew crema for the dressing. Next we were served the freshest salad with the freshest bread you will ever eat. The salad was a mixture of baby butter leaf and little gem lettuce, cucumber, heirloom tomato, and pomegranate seeds, with a shallot vinaigrette. The bread practically melted in your mouth it was so fresh… I know people usually don't describe bread as 'melting in your mouth' but trust me you'll get it when you try the focaccia that came from the Bread Shop. For the main course we ate whole trout with saffron couscous, toasted pine nuts and more greens. Lastly we were served a skillet of grilled vegetables: baby carrots, baby bok choy, asparagus and turnip.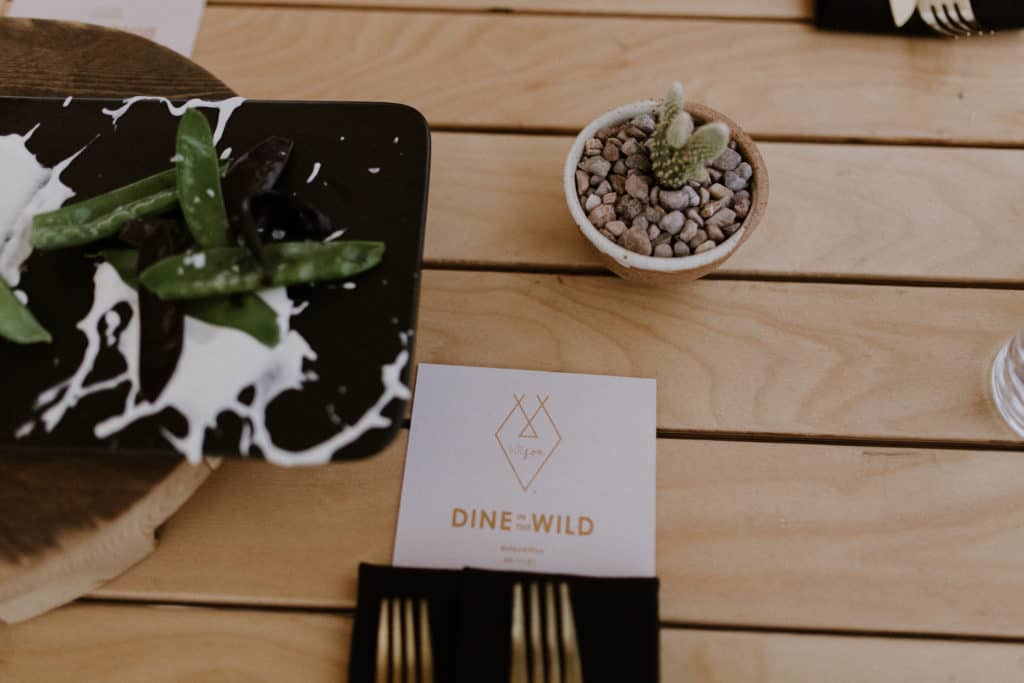 Dessert
The dessert that followed was a classic DIY S'more however, there was nothing average about this S'more. The marshmallows were vanilla flavored and homemade, served with a square of dark chocolate and a blue corn honey graham cracker. If you've never had a homemade marshmallow before, they're less sweet, more dense, and more flavorful than the generic type we've all had.
Breakfast
Before breakfast they serve coffee in a french press and tea from Tea.O.Graphy (a local tea company based out of Taos!) at the "cafe" (aka the "Clubhouse") which is a little indoor seating area in a large tent and actually looks like a cafe! I love cafes so it was cool to experience one in the middle of the desert. Shortly after everyone's been served their tea or coffee, there's a casual, self-paced, sit down breakfast. For breakfast we had avocado toast on, again, the freshest bread you will ever eat, served with a farm fresh fried egg and garnished with violas. For sides there were fingerling potatoes, maitake mushrooms, and seared tomatoes with a thyme vinaigrette.
The Location
KitFox sits on 160 breathtaking acres and includes two loop hiking trails, each one being about 1.5 miles long (3 miles total for both). The Arroyo Trail takes you through a sandy arroyo where you're likely to see wildlife as well as colorful dirt, blooming cacti, and other local flora. Regardless of the landscape you're used to being in, the hike through the arroyo felt untouched and serene and I would definitely recommend making time for it if you're staying at KitFox. I'm a local who sees this type of terrain all the time and I was still blown away by the beauty. The second hiking trail (The Lookout Trail) goes through a lookout point where you get a view of the city once you're at the top, which is also magical. There's also a mini lookout point near the campsite which can be seen from the campfire area. I walked out to the mini lookout point in the morning and sipped my coffee while sitting on the boulders and looking at the view. This was one of my favorite things about KitFox: the ability to be immersed in the vast and colorful desert is steps outside of where you're sleeping and you can access it at any point throughout your stay. I've attended many retreats where you have to get transportation to hikes and other activities so I thought this was worth mentioning. Let me also say: kitfox truly takes place in the wild, at night you can clearly hear the coyotes howl while looking at the bright stars unobstructed from light pollution. I can't explain to you how whimsical it is to combine the modern comforts while being completely removed from civilization.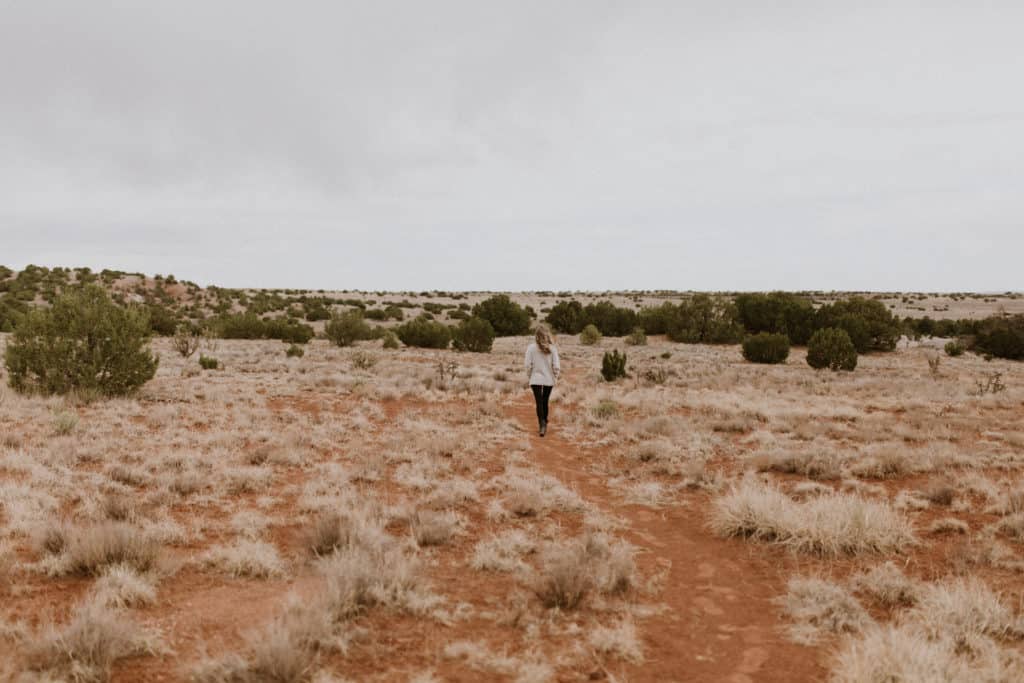 How to get there
KitFox is located 20 minutes outside of downtown Santa Fe and 1 hour North of the Albuquerque airport. From US-285 Southbound you'll turn right onto Astral Valley Road. After 0.3 miles, you'll take a left on Thornton Valley Road where you'll continue for 1.7 miles until you arrive at the driveway for the basecamp which will be marked with a subtle rusted sign that's low to the ground with the KitFox logo on it. Keep in mind, there's no reception out there so you'll want to pre-download the directions and map ahead of time. (P.S. after booking, you'll receive an email with the detailed instructions and info). Once you arrive you'll park in the small parking lot and head to the first tent on your left which is the check-in tent and small shop of curated items and KitFox merchandise. This is a great place to buy KitFox sweaters (which are the coziest sweatshirts I've ever worn) or pick up some last minute necessities in case you've forgotten something. In this area you'll also find the outhouses, the "cafe" tent which is where you'll get your morning coffee or tea, the outdoor seating area, the fire pits, as well as the kitchen. Located a little further from that, you'll find ten tents in two rows of five.
The Tent
You will be sleeping in a large safari style canvas tent while you're glamping in this New Mexico desert. Upon booking you'll have the option of selecting one queen bed or two twin beds, however keep in mind there's only a couple tents with two twin beds though so make sure to book early if you want a tent with separate beds. The tents come equipped with comfy memory foam mattresses, 4 plush pillows, a few accent pillows, and one very large down blanket. It's definitely warm enough if the weather is decent, however there was an intense storm right before we got there (which was very unusual) but it had me wishing I brought my sleeping bag as the temperatures dropped pretty low that night. Inside the tent there was also one extra blanket, water, earplugs, wipes, a portable phone battery pack, and some card games to pass the time. Outside of the tent there's a small wooden porch with a chair as well as a large mat to wipe your feet off before you step onto the porch (which is where you'll leave your shoes). I brought my fuzzy alpaca slippers to lounge around in and definitely recommend bringing slippers or socks to wear inside the tent.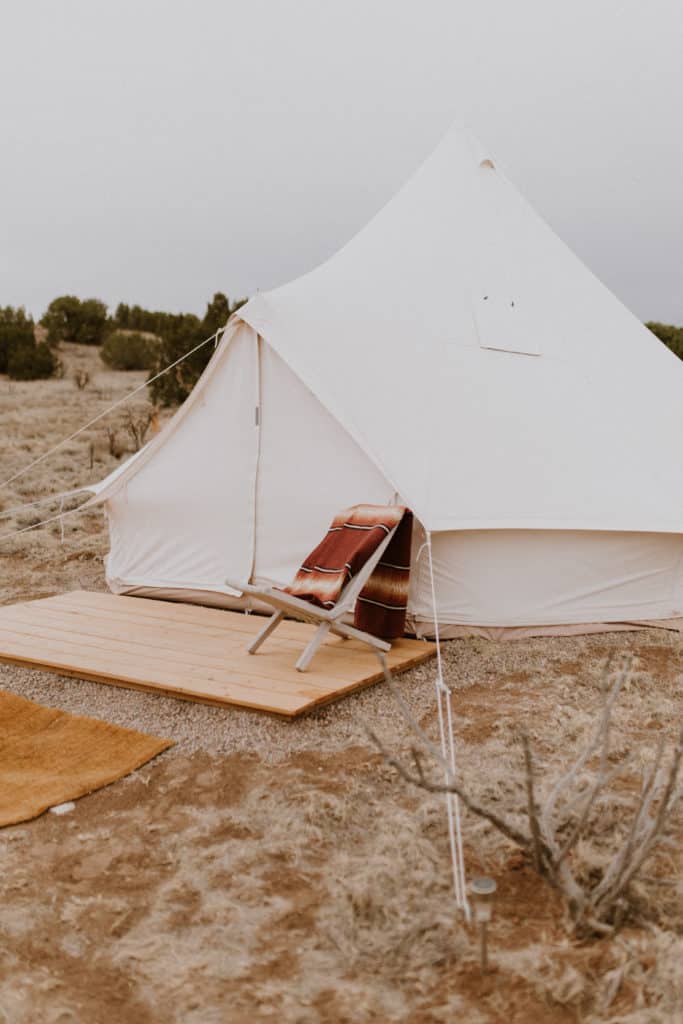 The weather
Weather in New Mexico can be unpredictable so while KitFox is located in the open desert, be prepared for anything, especially during spring and monsoon seasons. Temperatures can also drop surprisingly low even in the summer months so definitely keep that in the back of your mind when preparing for your stay. If you have the room to pack some warm clothes I highly suggest doing that. If you're coming in the summer months it will most likely be pretty hot (at least in the daytime) so don't forget to bring a hat and sunscreen.
What to pack
Since you will be taking your shoes off before entering your tent, I would suggest bringing some slippers (or at least thick socks) to lounge around in. Like I mentioned before, I brought my alpaca slippers and I'm so happy I did. However, when I stayed at KitFox there was a spring storm so it was pretty cold, this may not be something you'd want in the hotter months. I would also recommend bringing some type of boots to traverse this type of terrain in. It's mostly dirt you'll be walking on, but it can get dusty so open toed shoes that expose the ankle can get your feet dirty pretty quickly. There's also cactus and brush on the property so bringing some durable slip on shoes is a good idea. I would also suggest packing some warm clothes like a hat, gloves, and a warm jacket. Outside of clothing, make sure you bring something to entertain yourself with (i.e knitting, drawing, journal, books) because there is no cell service or data where KitFox is located.
How to book
KitFox offers all different kinds of interesting events to attend. From photography retreats to culinary experiences there's something to nourish everyone's inner food loving creative side. To book, look under the 'events' section of their website and look through the different offerings. They usually have their events listed on their website at least a couple of months in advance, giving you the ability to book a couple months out. Since opening they have been selling out almost every event fairly quickly so make sure to book as soon as possible to secure your desired event and dates. They are also able to accommodate vegetarians and vegans and you will be given the ability to list these dietary differences when you go through the booking process.
Once you step foot on the property, it will become clear just how much thought was put into this by Jenn. Every single thing that makes up this incredible event has been carefully thought of and tested. I was impressed to discover that even the merchandise in the shop has been intentionally selected to not only fit with the style of the KitFox brand but also be extremely comfortable and high quality. I could tell a few hours into wearing my new sweater that Jenn didn't just order merchandise to fill out the shop and make some extra sales, but she actually wanted to provide something of superior comfort for her guests to wear while doubling as a souvenir. It was apparent by how comfortable and functional my sweatshirt was that this was something she must have done a lot of research on and had to have ordered samples of and worn for a while, before deciding to carry it in her shop. There were countless things like this that I was pleasantly surprised by that weren't apparent in the photos I saw prior to attending this event. If you ever end up staying at KitFox or attending an event here, you'll see what I mean. Words really can't accurately depict what attending an event here is like until you experience it for yourself.
Whether it's the farm-to-table food that intrigues you or the idea of being immersed in nature minus the inconveniences, this is highly recommended experience for those who love retreat life, wholesome food, want to experience glamping in New Mexico, or simply crave waking up to the red/orange/pink desert pallet that makes up the enchanting landscapes around Santa Fe. My favorite thing about this event is that although there is some structure to it, you have the freedom to design whatever experience you're desiring. That might look like laughing with new friends around the campfire eating smores, or spending all of your time by yourself taking in the landscape and indulging in the food. KitFox designed this experience so intentionally, it's possible to create whatever type of experience you want. I love this- it adds a very low pressure and relaxing vibe to it which is the whole point of attending something like this!
If you enjoyed this post please show your support by sharing it or leaving a comment below!